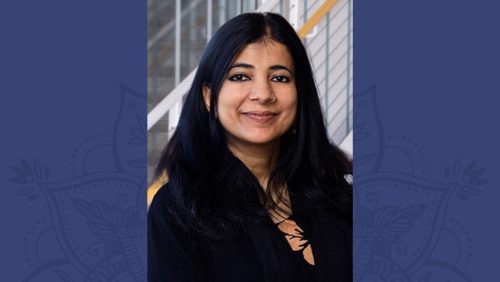 Bushra Sabri Faculty Spotlight
Written by Colter Billings
"There's a strong need for effective, evidence-based practices and interventions to improve healthcare."
Direct intervention and refining the data available is going to provide the best results for marginalized communities, Bushra Sabri, assistant professor at the Johns Hopkins School of Nursing says. With her focus in India on preventing gender-based violence among pregnant and postpartum women, she notes this is easier said than done.
"When I started working in this area, I faced a lot of pushback. There were some barriers because of the culture, and I had to work with others to develop messaging that vulnerable communities would respond to. The people I was interviewing were reluctant to share information, and they would just say everything is good," she said. "Building collaborations was very challenging in the beginning." It was also necessary for her research.
Sabri was able to overcome this primarily through the connections she made with people who were already invested in reducing gender-based violence. Developing partnerships with organizations like the Aligarh Muslim University (AMU) and local health departments was key. Those collaborations allowed her to not just identify her stakeholders, namely women and service providers, but also to meaningfully engage with them. Together, they identified needs, and together, they developed an intervention plan.
This led her to pilot integrated, trauma-informed care and maternal and child health services for rural communities and tribal women in India, called the Women and Child, Safety, Health, and Empowerment (WC-SHE) intervention program. Sabri and her team, in collaboration with AMU, developed WC-SHE based on qualitative and quantitative data collected from 150 women and 15 healthcare providers on the forms of violence women had to deal with, the challenges they faced, and their experiences with prenatal and postnatal care. They also sought to identify the challenges faced by healthcare professionals who work with abused women.
The 'components' of the WC-SHE program, being tested in the pilot, focus on Safety Planning, Individual Household Education, Advocacy Support, and Economic Empowerment.
Safety Planning and Individual Household Education: All participants completed an assessment of risk for future violence by husbands and/or in-laws and received a tailored safety plan, based on their priorities and needs. Husbands and in-laws received one-on-one education in the household on women's healthcare needs during pregnancy and the impact of stress and violence during pregnancy.
Advocacy Support: A multidisciplinary committee was formed to provide advocacy support. Each woman in the advocacy support group of the intervention was connected with an advocate (an influential woman in their community) who provided monthly support and served as a liaison for access to resources in the community. Group education sessions on healthy relationships and communication were also held with the families of abused women, without compromising women's confidentiality and anonymity.
Economic Empowerment: In this segment, women were connected with self-help groups in partnership with the District Rural Development Authority's Rural Livelihood Mission. Husbands were also engaged in economic empowerment via individual psychoeducation, linkage to activities of women's self-help groups, and access to government programs.
"What I'm learning is how the definition of violence differs across India. The behaviors are different, like not letting women go to see healthcare professionals. Not letting them get the food they need, or giving them more work than what they're supposed to be doing," Bushra said. "That's a form of violence, and they're impactful in ways you don't think about on a day-to-day basis. Learning that was a powerful thing."
The data collected from the 150 women and 15 healthcare providers showed that 88% of women Sabri surveyed reported that their husband or in-laws had stopped them from getting the rest they needed during pregnancy or post-partum period. 81% reported their husbands/in-laws had interfered in their ability to get healthcare for themselves. 71% also reported their husbands/in laws had stopped them from getting enough food for themselves during pregnancy or the post-partum period.
Even when government assistance is provided, she notes that it doesn't always benefit women's health. Often, money is used for other things, food is consumed by the rest of the family, and not enough nutrition is provided to meet the needs of pregnant and postpartum women. It doesn't just affect mothers, but children as well.
"A girl child can also be impacted because there's a bias against women. There's an importance placed on a boy child—his nutrition, his healthcare needs. But if the mother is delivering a girl child, she gets neglected. Her health is neglected," she said. "Basically, this is when we need to deliver an intervention. Educating about this form of violence and assessing if women and children are in danger at home is important."
Sabri notes that in the 2019-2021 Indian National Family Health Survey, 32% of ever-married women in India reported experiencing physical, sexual, or emotional violence by their current or former husband. Two publications by Sabri detail this: one is an analysis of the barriers that prevent women from accessing support for domestic violence, and the other is a study of survivors of domestic violence.
Waiting for Results
Sabri explains that long-term results are years away, but it starts with this pilot program. She already has some publications in the review process and hopes to have more after her the program concludes. The next goal in her mission is to raise awareness and funding.
"Violence gets sidelined when people think it's not important, so we have to establish that. There is so much else going on in India, and gender-based violence prevention is a lower priority because people struggle with basic needs in some areas. Some of the communities are struggling for survival," she explained. "So people tend to those needs first. But there's more than delivering the healthcare services. It's also educating the families to use those services. They need empowerment."
"We talked to officials and people working with the government at the village level, trying to get all these people on board. When we do this kind of work and get input from the ground up, that's when we're able to design an intervention that can be translated into practice," she said.
One impact Sabri has already seen from her work is the implementation of an integrated violence curriculum she developed for training healthcare workers. This training explains how to assess for risk and provide safety plans and methodological considerations in disclosures. She credits working with people on a smaller scale leading to a larger stakeholder engagement in this process.
Sabri reiterates that helping under-researched, marginalized communities is what she's passionate about.
"There is still a need for the norms to change. There is a need still for greater awareness on many health areas and topics, and that big shift will take years. It'll be a lot of projects and a lot of work," she said. "We need more rigorous intervention research and to develop and implement evidence-based practices in rural and tribal communities, not just regular research. That's where I can do something meaningful for them."