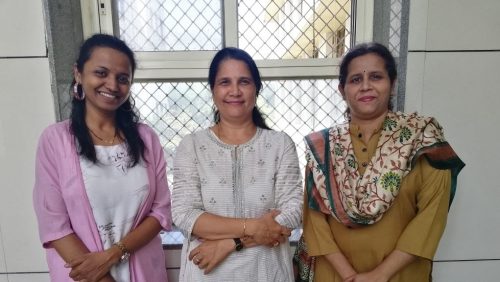 Gauri Dhumal and Neetal Nevrekar Receive PEER Grant Award
By Neetal Nevrekar & Colter Billings
November 1, 2021–Drs. Gauri Dhumal and Neetal Nevrekar were awarded a $10,000 grant from the Partnerships for Enhanced Education in Research (PEER) Women in Science Mentorship Program.
Dr. Dhumal, a study coordinator, and Dr. Nevrekar, a research clinician coordinator at Byramjee Jeejeebhoy Government Medical College (BJGMC) – Johns Hopkins University Clinical Research Site in Pune, India, formed a mentor-mentee cohort with Dr. Nishi Suryavanshi as their mentor to further the PEER program's goal of making the STEM field a safer space for women.
The PEER Award is supporting two studies, which are being conducted under the mentorship of Dr. Suryavanshi, Clinical Research Site Coordinator and Deputy Director for the Indo-JHU research partnership at Pune. Dr. Dhumal and Dr. Nevrekar submitted individual pilot projects and applied for the $10,000 seed grant funding as part of the program. Both of the research projects were reviewed and selected by the U.S. Agency for International Development.
Their projects have a basis in tuberculosis research and making treatment better and more accessible for at-risk populations. "Many people living with HIV don't follow through with TB preventive therapy," Dr. Nevrekar said. "My study will identify the reasons for poor uptake so we can develop tailored strategies that help people stay on course."
Dr. Dhumal has a similar approach. "Adolescents being treated for multi-drug resistant TB are particularly vulnerable to societal stigma, social isolation, and depression, which often leads to discontinuation of treatment," she said. "I'm looking at ways to address psycho-social needs so that youth remain in treatment and get the care they need."
The PEER program seeks to address the limited number of women researchers across the world. One aspect of this is supporting junior and senior faculty positions in building personal and professional skills. Dr. Dhumal and Dr. Nevrekar had monthly sessions with Dr. Suryavanshi to discuss key building blocks of career development. They covered multiple topics, including work-life balance, networking, time-management, problem-solving, stress management, leadership skills research proposal writing and publishing research papers.
"Helping people has always been the goal. Sometimes that means working to retain patients throughout the treatment process, and sometimes that means retaining talent at the highest level," said Suryavanshi. "I'm very proud to have been a mentor to Neetal and Gauri, and I'm excited to see what their studies yield."