YRGCARE and Partners Poised to Vaccinate 2,000 in Chennai
By Aylur Ganesh, YRGCARE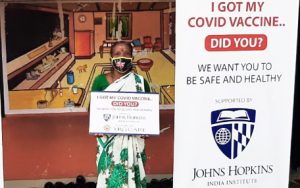 August 13, 2021–
Two-thousand people living below the poverty line in Chennai will receive the required 2 doses of COVID-19 vaccine, thanks to robust local healthcare partnerships and philanthropic support from Johns Hopkins India Institute's COVID-19 Relief Campaign.
YRGCARE—a JHU collaborator and not-for-profit organisation noted for 3 decades of extensive work in HIV prevention, care,and research—has expanded services to meet the urgent need for COVID diagnosis, treatment, and vaccination of vulnerable persons in Chennai.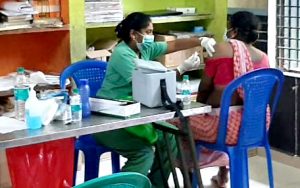 Working with the Rotary Club Madras East (RCME), two partnerships recently have vaccine to 2,000 people. The first dose of the vaccine will be delivered by September 15 and the second dose 90 days thereafter.been formed for community outreach and clinical services: one with Kauvery Hospitals Chennai, and one with CURI Hospital (Chennai Urology and Robotics Institute). In total, the partnerships have pledged to administer 2 doses of COVID-19
"YRGCARE's extensive linkages and networks within the community, its association with RCME, and partner hospitals' community reach make an effective approach to scaling the program to benefit individuals at high risk of COVID infection" says Mr. AK Srikrishnan, Chief Operating Officer, YRGCARE.