Honoring Provost Sunil Kumar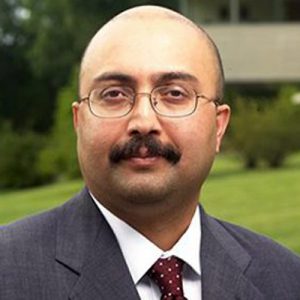 On March 20, The Gupta Klinsky India Institute had the pleasure of hosting a distinguished gathering of Johns Hopkins University Deans, faculty, staff, and students to celebrate the outstanding leadership and contributions of JHU Provost Dr. Sunil Kumar. Held on the first day of spring, the event marked the start of a new season, symbolizing a new beginning for Dr. Kumar, who has been appointed the 14th president of Tufts University, effective July 1, 2023.
The occasion was a touching tribute to Dr. Kumar's strategic guidance and support during the founding years of the India Institute, and his tireless dedication to the JHU community. Esteemed speakers, including Dr. Theodore DeWeese, Dean of the School of Medicine, and Dr. Ellen MacKenzie, Dean of the Bloomberg School of Public Health and newly appointed co-chair of the Advisory Board, shared heartfelt stories and expressions of gratitude.
During the event the creation of the Sunil Kumar and Sumati Murli Student Training and Mentorship Fund was announced.  The fund will be used to benefit the Gupta-Klinsky India Institute by supporting PhD researchers at Johns Hopkins and its partner institutions conducting research in or related to India.
Advisory Board co-chair, Raj Gupta also recognized Dr. Kumar's pioneering role as the first Provost of the Indian diaspora. Drs. Sara Bennett and Amita Gupta, Faculty Co-Chairs of the Gupta-Klinsky India Institute, expressed their profound appreciation and presented Dr. Kumar with a special gift to honor his exceptional leadership.
During his remarks, Dr. Kumar inspired the audience to contemplate the impact they could have on the world, similar to Mary Elizabeth Garrett's legacy of equitable admission of women to Johns Hopkins School of Medicine. He emphasized that making a difference is a calling for all of us at Johns Hopkins.
Melody McCoy, the GKII newly appointed Executive Director reflected "with the Institute having been built on Dr. Kumar's unwavering support, we are well-positioned to continue driving institutional impact and promote equity, making a positive difference in the world in collaboration with our colleagues in India."
Join us in celebrating Dr. Kumar's tremendous legacy at Johns Hopkins and wishing him all the best in his future endeavors. With his leadership, we are confident that the India Institute and JHU will continue to thrive and make a difference in the world.